15 May 2023
ASP partner with content management platform game changers Sessionboard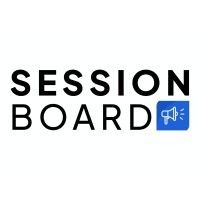 ASP is delighted to announce a partnership with speaker and content management platform specialists Sessionboard.
Among many other easy-to-navigate tools, Sessionboard's state of the art portal platform allows organisers to personalise branding, messaging and tasks, while allowing users to view real-time dashboards that highlight the onboarding status of every speaker.
Upon agreeing the partnership, ASP's managing director, Jon Benjamin, had this to say:
"At ASP, we carefully vet our partners to make sure our clients only use the best event tech. When we saw what Sessionboard can do, we were bowled over," said Benjamin.
"Sessionboard really mirrors ASP's ethos of creating tech that makes life easier for event organisers.
"We particularly like that with Sessionboard, organisers can view real-time dashboards that highlight the onboarding status of every speaker while also sending automatic reminders to speakers for each task.
"It's game changing content management tech and the team at Sessionboard have been great to work with too."
Sessionboard's CEO, Chris Carver was equally pleased to partner up with ASP:
"We are excited to offer this integration with ASP to our customers and to continue our mission to simplify the daunting and complex conference planning process for event organisers."
"From building the event on our end to growing the event on their end, this is a perfect partnership."
ABOUT SESSIONBOARD
Sessionboard is a next generation speaker & content management platform that simplifies the complex workflows and disjointed communications that exist around speaker and content management. From call for papers, abstract evaluation, awards, applications, agenda building, speaker onboarding & communication, and robust content management, Sessionboard helps event organizers work smarter, move faster, and improve their ROI.
The results? A faster-growing event, more productive staff, seamless collaboration with speakers and more time back to do what you do best—building epic experiences.
Find out more about Sessionboard and view their product in action on an ASP website here.