01 Jun 2020
Be More Bandersnatch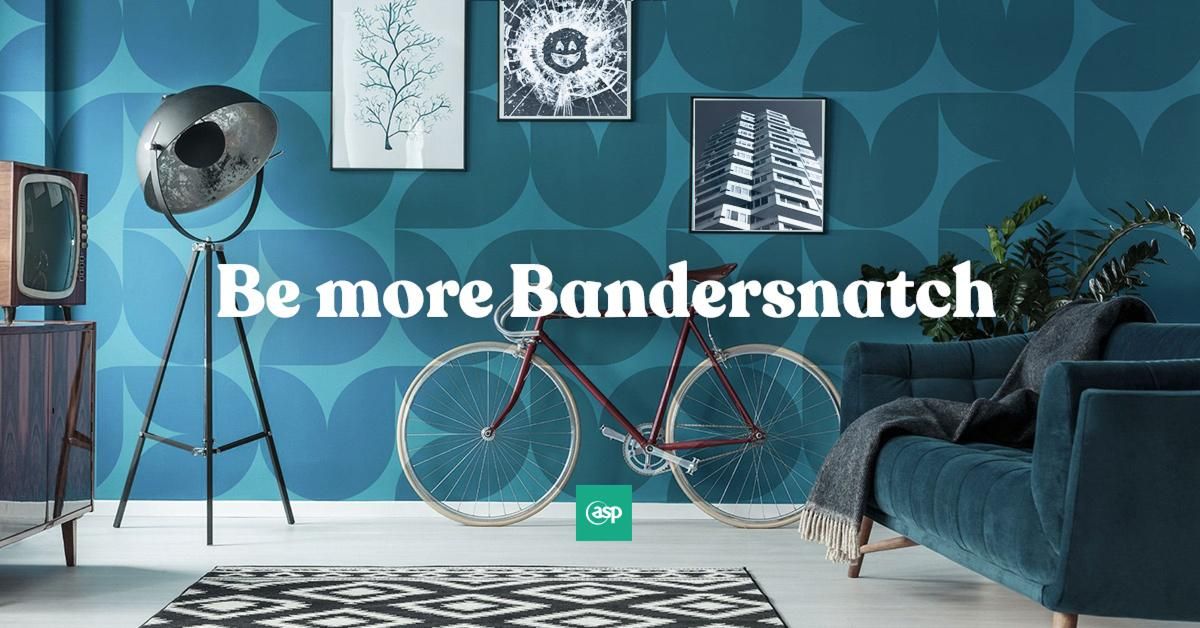 The summer of 2018, oh how I miss thee. The sweltering temperatures, the hope of Gareth Southgate's England team winning the World Cup and of course, only Brexit to worry about. 
For us at ASP, that summer will live long in the memory for all the above but also for the Black Mirror film crew who took over parts of Croydon, including our old offices to film an episode of Black Mirror called Bandersnatch.  
Set in 1984, the story of Bandersnatch allowed viewers to make decisions on behalf of lead character Stefan. By the push of a button on your remote, the viewer became the narrator and helped Stefan through a series of choices in his day-to-day life. 
From the trivial; like which cereal to have, to the bloody; whether to off his dad. We the audience had the choice to make and our own version of the story to unfold. 
The idea of Bandersnatch stems back from fantasy 'choose your own adventure' books that were popular back in the days when the likes of Mark Zuckerberg were just mere spotty teens at home playing Dungeons and Dragons and going on a blind date was via Cilla Black and not Tinder. 
Now why on Trump's earth am I telling you this? Well, it got me thinking about the decisions we make on behalf of consumers in the events and exhibitions industry.  
Putting the power of choice in the hands of your customer
Do we assume too much about our customers? Are we making too many decisions on their behalf - are we missing a trick? 
With a Covid-shaped cloud over the Industry, we know we need to continue to evolve in order to remain as leaders in what we do. 
But how can we do that?  Like Bandersnatch, we can do it by putting the power of choice in our consumers' hands. 
We've been building websites for over 22 years. But now with our quick to market and easy to use product Composer, we are giving our customers the opportunity to build their websites the way they want and at a lower cost. 
On top of that, we have also given organisers the opportunity to offer choice to its sponsors and exhibitors through our newly launched Limelight tool. 
We've taken our time to evolve the tech behind Composer, but now we have a product that turns technophobes into web wizards and puts the power of true choice into our customer's hands.
For an industry built around people meeting face-to-face, we are living in challenging times. But this is a resolute and brave industry we all work in, that despite the challenges we face, will continue to grow and evolve. 
But I wonder what else we can all do in our businesses, be it online or on the showfloor to be more Bandersnatch? 
To find out more about composer contact team@asp.events